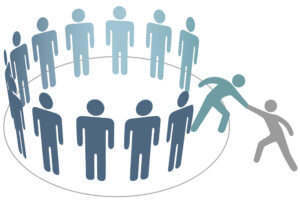 Joining a new community can be hard. It can be awkward to find your place. It's like being the new kid at a new school where everyone already knows each other. We recognize that and here at South Salem want to make getting involved easier. Since there are plenty of ways of being connected here at South Salem Friends, we just want to take a moment highlight a few.
Fellowship Sunday. Every 2nd Sunday of the month we take time after our worship gathering for opportunity to visit with each other. We recognize the few minutes before are gatherings it is hard to catch up. This is a way to check in with old friends as well as getting to know new people over a treat.
Small groups. Whether it is through our Men's group or Bible study group, our small groups are a great of connecting with people and be known. People are welcome to visit these groups without a long term commitment to see if this group is right for them.
Volunteering. One of the quickest ways to feeling connected to a group is through serving. We have several ministries that people can get plugged into to including: our music ministry, sound tech, leading new small groups, serving at our Tuesday night dinner, and serving on a board. These are just a few ways you can bring your gifts to our community and get connected.
If you have questions, email Austin Way at away.ssfc@gmail.com.